Basketcase 2nd free ascent: A day with Ed Ward
By Peter Haan, copyrighted 2006
photo by John Bachar
In a fine article called "Brave New World", Mountain Magazine (#31, 1973)
and Jim Bridwell had this to say about Basket Case:
Several of the leads on Basket Case would constitute a crux on most routes. At present the route stands as the most difficult off-width problem in the country. Twenty-foot runouts on four-inch 5.11 cracks, and a 5.10, one-and-a-quarter-inch crack on the lower pitch accent the variety of this climb. The first free ascent was done by Mark Klemens and Jim Bridwell.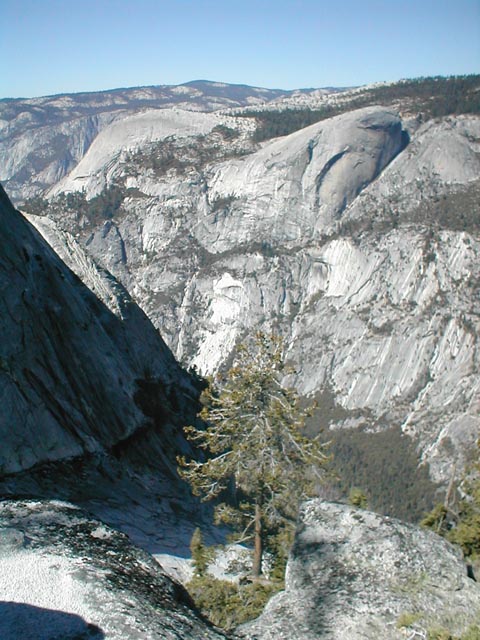 ___It wasn't Ed's first visit---I think he had come over from England in the late '60's announcing beforehand in a letter to Royal and others that he was going to bag the second ascent of the North America Wall in a solo, cleverly frog leaping any need to climb in the Valley at all beforehand. Clearly a very efficient plan. He was Ed Ward-Drummond then, later becoming just Ed Ward, why I don't recall. But soon after arriving, he had met up with our various realities and had to actually train like the rest of us, just seeing what he could do as his schooling progressed in the Valley. It's true, it would have been really impressive had he simply arrived full-blown from the head of Zeus as planned and flash-soloed the second ascent of the North America Wall, beating out Lauria and Hennek. But this dream of omnipotence most of us had had already and hastily recovered from, so we smirked communally, as people do, implying we would never have made such a mistake ourselves.
So on this latest visit in the mid-70's, his newly revised plan was to get up notable crack climbs in the Valley, smile more and check us all out; a plan that was working well enough and considerably more practical than imagining Yosemite as a simple plum to pick, viewed from the safety-zone of one's home. I think he was having fun even and he was making new friends, and the warmth was finally finding him.
___Kind of elegant, and mostly honest, he had a bonafide adventurous spirit, done the FA of the awesome Trolltind Wall in Norway even, and liked hanging out in high sketchy places where perhaps he worked out in symbolic fashion his particular questions and passions. With his background in the Isles and Europe, he was very good on steep faces and liked to be Bold in Nature, his favorite theme and obsession. There was a really pretty non-climbing girlfriend who was being tortured at the time but Lindy eventually disappeared. Ed was on some kind of unconscious mission, but weren't we all.
___So he was bright, an engaging witty conversationalist and in a number of respects, a powerful climber with a very strong back. Kind of an English version of a man's man. Sort of. In those days he still hoped for international acclaim by the way. So here he was in the Valley, and I was back up there too, climbing off and on a bit more--- like a weekend climber---some years after my better-known and devotional days of 1970-1972, but now beset by a complex construction career that still has a hold on me. As we were both intellectuals of sorts, and both wanting some difficult exciting stuff to try, we had started climbing together; it seemed to be working.
We did Hawkman's escape and I added a dangerous 5.11 finish to it. Ed loved the long steep face pitch on Gleason's route and just came alive on it. We were having fun right away. And so we went for more.
___Less than a month after Donini and TM had aided the crux on their first ascent in 1972, Bridwell and Klemens freed their superb route on Basket Dome across Tenaya Canyon from Half Dome that July. And then Jim and Mark began to aggressively campaign me to do the second free ascent as soon as possible before some of our nemeses got a hold of it. It was a feared route of course, as most of the very early 5.11s were, and this climb's crux was offwidth to make it more repellent to most. Since the approach was hours long involving rigorous brush management and some route finding, the practical attractiveness of this amazing climb was reduced to nearly zero even when able parties would scope it out from the eastern end of the Valley floor. They were seeing what was involved in reaching it and then getting up it. It would be a coup, but also because it was hard to reach, honor would allow one to avoid it and still be a hardman. So there it sat, a somewhat friendly dome sitting on the edge of Tenaya Canyon with a sweeping left facing dihedral of about 7 pitches facing southwest towards the Valley and Mirror Lake---an all-too-obvious line, a natural puzzle of great beauty with its own savage crescendo, each pitch building on the last and then a strange deeply cleft denouement in the summit pitches.
___We parked up on the Tioga Road in the morning. Although it was early, it took quite awhile to reach the base of our formation. It was a moderate enough hike down to the rim of the canyon on a frequently traveled park trail, but then leaving it, an aggravating, highly detailed struggle to descend steep tongues of squatty vegetation that were incredibly packed and tightly growing from the seasonal snowpacks; this bit lead to a similarly festooned traverse to the start. The Dome is located fairly high up on the north side of the widening mouth of Tenaya Canyon as it merges with Yosemite Valley, Half Dome right across from us. The rock was absolutely perfect, dazzling white and all ours that morning. It feels alpine here. Surprisingly and astoundingly aesthetic, like parts of the Nose, Elephant Rock, and the Hourglass. What a reward for such a really bitchy approach. What a stimulating secret place but possessed of an opera house view of the upper Valley from which only a few other people had ever gazed.
___The earlier pitches are in the 5.9 range, with a few holds and other forms of relief for the climber. These lower sections turn out to be less unrelenting than they appear from below. Protection ample, just happy climbing, but with a worrisome view of the developing overhang of the dihedral's crux pitch #5 a few hundred feet above. Ed is keeping up well, spending less energy on the offwidths than I was thinking he would, but eventually starting to fade a little after hundreds of feet of fast paced crack climbing in thinning air under a blazing alpine sun.
___Rather than a stiff vertical main wall typical of lots of other Valley routes, happily the Dome is more in the 80-85 degree range. But the dihedral itself arches out slowly above us as we set up for pitch #5. Ed is in a reasonable stance in the crack and with big sloping footholds, well anchored. I am thinking starting out from the belay, that this crux can't be so hard, 5.11b; what was wrong with Donini? So I pretty much swarm up the initial longer section of increasingly overhanging offwidth hammering in two bongs, climbing over them in the standard manner and starting to turn the corner in a somewhat flamboyant and overly hasty manner. I was in fantastic shape, but not climbing very much at this point in my life. And then stunned, I see the flare into which I realize I am going to have to move.
___As one would expect with it changing from overhanging to vertical, the formation is getting incredibly smooth, the crux flare above is basically a sluicebox for snow, scree and water during big weather, and so has become really slick, like something produced in a marble shop. And the crack's edge that I am so happy to have, disappears too early becoming the flaring 45-degree facet of the same slippery nature. It's reminiscent of the left side of the Hourglass just after the undercling, less complicated, but harder and ever so much safer. I am thinking, at least it is not overhanging at this point, just the lower half of my body is, as it still is in the regular crack trying to dangle and slip out of view! Progress has really slowed down just before this, the method is arm-barring, modified arm-barring and quiet tiny moves. With the demise of the more orthodox offwidthing below I am starting to realize this is a bunch of unusual very very powerful moves coming up, bringing me out of the crack, in an overhung posture.
___I don't like what is going on and am having a hard time accepting that there is not some really subtle trick to make all this stop being progressively more hideous. And I am in a hurry, getting a little exhausted but still too cavalier in the face of a world-class problem. I make the first set of moves to gain the bottom of the flare but am in error. I come flying out of there, sweeping the wall for a 25-35 foot well-belayed fall that is more like an amusement park ride than a life-threatening development, one of the five or so leader falls I have ever taken in 43 years. Royal used to say in his oracular riddling manner that you never actually fall you let go. But in this case I am pretty sure RR is quite wrong.
___My first feeling is what a phenomenal relief; this natural bastard was trying to give me a heart attack. And frisky little falls can be very stimulating, refreshing---- although in those days leader falls were still rare and really really rare in big cracks. But most of us had practiced falling and belaying quite a bit when when we began climbing, back in the early sixties. So the feeling was on a basic level, pretty familiar. The pain and pressure can seem nearly infinite in actual cruxes, like torture finely applied by a truly uncaring world. I deeply rest on a stance by the belay for forty-five minutes, emboldened but really winded. Ed is a bit blown out by all this but still a solid guy on my rope, still impressively and totally committed. Sometimes the belayer is more upset after a fall than the leader. That's right, there is nothing like hitting your head against a brick wall, so that stopping has to be nothing short of enormously beatific and enlightening.
___We are worried since it is getting later in the day, we are way the hell and gone up here and truly loathe the idea of a retreat from the base back up through what we thought we would never ever have to struggle again---or even look at---especially going uphill.
___I am thinking I can get the moves though, but we will just have to see. I feel the altitude since I don't live in Yosemite anymore, and have only been up for a couple of days from Santa Cruz this trip. Working the whole pitch again, I get up to the crux with more economy and proper pace, and start to think the sequence out more astutely. I just can't believe how delicate this is going to be, transferring myself in 1" stages, arching to the right severely and strictly into this flare from the overhanging conventional offwidth just below it, trying to get my torso back over my overhung feet that are trying to detach by this very position I have to take. I make the first move, the one that ejected me an hour earlier, and can hardly stay attached. But with the knowledge that it is going to be more balance than usual and a micromanaging tradeoff between one counterforce lock and another while losing the knee bar, I progress, using unbelievable amounts of power seeking security in the flare in an orderly but granular transition that is nearly impossible at least for someone my size. And there are absolutely no edges of any sort in the crack, neither on the main wall nor on the dihedral face, my usual secret tactic to unlock some cruxes. With no edge to the crack, but only the nearly perfectly smooth flaring facet for my right hand, I arch into the flare arm-barring and palming over a period of 5-10 minutes for just one or two feet of progress, toying with my left leg and right foot as they get more and more tenuous in the overhanging sections right beneath my waist, with a real risk of everything just sinking into disorganization and ineffectiveness.
In the flare now with the shocking problem below me, I realize that these had just been the hardest offwidth moves I had ever done, at least in context on a lead. Oddly delicate too with nothing but pressure to make the moves. No safety valve and no clever, secret and sophisticated combination no one else would see. And I now realize why the incomparable Jim Donini and TM had finally aided this section.
___Following, Ed struggles up the lower section but the crux is just not going to happen without tension after repeated vigorous stabs below it that are really wasting him, determined as he was. We spend a lot of time here and I realize we are going to be benighted. I want to be impatient but squeeze this out of mind. I can't see him until he gets to the base of the last 10 feet or so, at the crux. I think, British Ed probably wants to be beknighted, but does he want to be benighted, grinning to myself. Eventually continuing upwards, darkness approaching, we gain a small bumpy ledge inside the upper chimneys and just anchor in somehow, hardly enough room for the two of us.
___We start to wait for dawn as night falls quickly. We think we saw some 5.8 above us, and we have no daylight left so sticking here is indicated rather than some hare-brained junior attempt to lead semi-hard free stuff inside weird deep chimneys in total blackness on weathered rock for who knows how many more feet all without any beta whatsoever.
___Since I had ever so much experience in the Valley at this point and about twelve years of climbing, we didn't have any bivy gear, any food to speak of, and no more water. We are in something like turtlenecks and cotton pants. And no lights of course. We are above 7,000 feet, albeit in good weather, but as anyone knows, the night is going to be at warmest, high 30's. We may not have even had a second rope for god's sake. And the thing is going to be about 10 hours long. A plan only young man would form since they are always and without exception, invincible. But along with this profoundly intelligent situation, I have my half-length ace bandages on my knees under my pants for protection in the offwidths, and I can take them off for the sagacious but gross process of wrapping these filthy things around my head, face and neck mummy-style to trap some of the heat I will be losing through those very vascularized areas. I naturally offer one of the two immediately to Ed, as any decent partner would, and he is grossed out by the idea, nearly offended and certainly shocked. You would think I had offered my underwear, but those sure weren't coming off! He thinks he isn't going to need the ace bandage, but I don't have a clue what he thinks it's going to be like soon as night descends. And I had used this bandage trick on other forced bivouacs to great effect, and knew "the sooner the better". In fact one night I had had to sleep in newspapers like a bum at Sugarloaf as Greyhound had lost my luggage when I was fifteen. I knew that small tricks like this could be the way you survive or at least shorten the approaching all-night spanking.
___Time passes, the temperature drops some more, it's a clear sky with almost no breeze, and we are just going to get damned cold. And won't be having much else to think about for many hours. It becomes obvious enough even to an upper-crust Englishman, that protocol may have to be re-assessed. So quietly at the end of this re-assessment, about two prideful hours into the thing, Ed says in the darkness, "Peter….you don't supposed I could have one of those ace bandages?" In Queen's English of course. It was actually quite elegant and funny even at the time.
___So off one comes; I rearrange my remaining one and Ed wraps his face and neck up as best he can in my other scuzzy old ace bandage, and we go forth a little bit more into this challenge similarly festooned. I am also realizing that wearing one less ace bandage is a huge step down from the bulletproof 5-star effect of two.
But this isn't delivering us from trouble. It really is damned cold. So nearly involuntarily in a moment of mutual nonverbal grunted assent, we start to bearhug each other as thoroughly and completely as possible, shaking away in the black guts of this large chimney a pitch and a half from the summit as if something really terrible had just occurred in the world, besides the way we were now garbed. Although warmer in our spazzy clench as time goes by, the un-united portions of our bodies are really getting crispy. We keep changing configurations to relieve other parts that just can't be this cold any longer, but also hating to do so since our desperately created heat races off into the alpine air like a precious life-gas of which we know we only have a fixed amount.
It is an interesting experiment, surviving in this manner, all conventions and inhibitions aside cheek to cheek, perched on this awkward tiny bumpy ledge for seeming endless wretched hours, almost unable to talk for the deep cold trying to take away the little warm spots that were still left of us.
___I wondered if this is wild for Ed, hugging a climbing partner way off in California 8,000 miles from home, on a late summer night deep in a chimney at higher altitude after a really hard climb that bested him. But necessity has brought us to stay here, and everything else, all other issues, just shelved as big zeros. Our world is now in a newly established order to get through this, and with dignity. Getting back home is now absolutely trivial; staying is everything; staying warm is now more important than imagined personal boundaries and our respective individualities; starving is now essential and more important than eating, all because the original priorities (climb, go home, and eat) would now kill us. We know the rest of the climb is no challenge, we already have it and we just missed reaching the top by half an hour and the ever-so-longed-for archetypal level walk-off to the car.
___Needless to say, as soon as it was possible to see what was happening above us in the colorless early light, we break up our death-grip on each other, start really getting cold separately in belay and lead. Shaking and stiff, I jerk towards the top, climbing grossly and ferociously, almost hatefully and lifelessly robotic, but seeing that it was a very smart thing to endure the night down there on the hideous ledge. For blindly climbing this odd crude stuff to the summit in a circuitous route that I actually am having to think about, I see I might have fallen in pitch dark the night before amongst very rough features or less dramatically, become separated from Ed spending the night in makeshift slings mid-lead on who knows what sort of hastily established anchors somewhere inside the granulated summit.
___Soon after, time dragged us both away to our separate pursuits and responsibilities, and I never saw Ed again. He lives in Berkeley, last I heard and is a friend of Al Steck.
---
info@WideFetish.com